Fashion and Fat Beats at John Colins Designer District
Listen up folks! John Colins is hosting a special event this Thursday night, February 16th, showcasing up-and-coming San Francisco fashion designers and live music. With a special performance from legendary hip-hop/jazz fusion group, Camp Lo, and guest sets from The Whooligan, E Da Boss, Mark Divita and Gelson, Designer District is sure to provide quite a memorable night.
If you've never been to John Colins, you're in for a real treat. The classy bar features an extensive cocktail menu, a private VIP room, a mezzanine and a busy dancefloor, perfect for gettin jiggy to Camp Lo's funky beats. Don't miss out on the fun, get your tickets to Designer District before it's too late!
John Colins
138 Minna
San Francisco, CA
Website: http://www.johncolins.com/
Tickets: http://designer-district.eventbrite.com/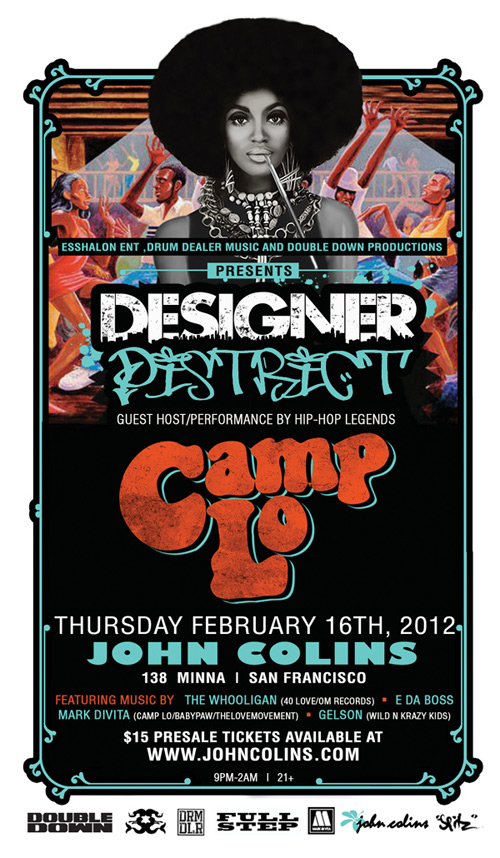 » San Francisco Festivals Guide
» San Francisco Happy Hour Guide
» SF's Best Mixology & Craft Cocktail Bars
» SF's Booziest Liquor Stores
» Hip Hotel Guide to San Francisco
» 15 Epic Summer Parties in SF
» San Francisco's Sushi & Sake Sanctuaries
» SF's Best Rooftop Bars
» San Francisco Brewery Guide
» This Week in SF: Concerts, Festivals & Parties
» Hosted Bar Parties in SF
» Win a $1000 Bar Tab