33rd Annual OB Street Fair & Chili Cook-Off Returns
For over thirty years all things weird and wonderful have made a home in OB at the Ocean Beach Street Fair & Chili Cook-Off Festival. Drawing more than 70,000 visitors to this eclectic and eccentric beach community, brace yourself for the best people watching around and tons of fun in the sun when the 33rd Annual OB Street Fair and Chili Cook-Off Festival returns this Saturday, June 23.
Celebrating the 125th birthday of Ocean Beach, expect festivities to be found everywhere! From live music and entertainment to unique vendors and handcraft merchandise, tons of amazing local food vendors, a refreshing beer garden, skateboard exhibition, catch activities throughout the day such like the:
• Artists Alley : Over 65 vendors will showcase handmade creations by talented artisans. Check out your favorite artists with the Artist's Alley guide.
• Community Mural Project: All ages are allowed to join in the fun and paint a square of this community mural.
• Beachside Beer Garden & Liquorland: Sponsored by local music joint Winston's, the beer garden will be steps away from the Main Stage for all those thirsty adults! In honor of the celebration, catch a very limited release of local favorite Pizza Ports special limited beer, the Ocean Beach 125th Anniversary Pale Ale.
• Skateboard Exhibition: All day from Ocean Beach Surf & Skate at 4976 Newport Ave.
• The Incredible Raffle: To help pay for the 4th of July Fireworks and other OB beautification projects, a raffle will be held with prizes including $250 Cash, restaurant gift certificates, museum passes and so much more!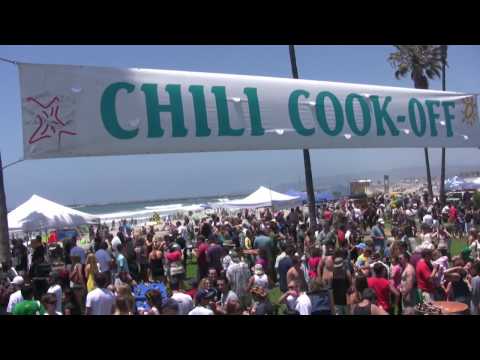 Make room to sample the hot competition at the Chili Cook-Off held from 10am to 2:30pm at the foot of Newport Ave where amateur cooks whip up a fierce battle for prizes with their original recipes. Head there early to snag all samples of every recipe!
As always, those eager to groove should find dance worthy tunes with six stages of continuous music that are sure to keep the beats rocking in every genre all day long.
MetroWize Tips
Forget driving and ride your bike to avoid (practically non-existent) parking or hop on the free Old Town Trolley Services running all day from 9:30am to 9pm. The trolley will be picking up and dropping off at the Sunrunner Lot on the corner of PCH and Sea World Dr. (adjacent to I-5) and the entrance to Robb Field at the intersection of W. Point Loma Blvd. and Bacon St.
Tech-savy fair goers can download the free Antengo app to find deals at local Ocean Beach shops and restaurants, vendor specials, band line-ups and times, chili info, shuttle times and pick-up locations, etc. all day long! A real-time classifieds app that allows you to see the best deals on entertainment, dining, social events and more, visit antengo.com for more details.
Catch up on all the mayhem from last year's street fair:
What: 33rd Annual OB Street Fair & Chili Cook-Off Festival
When: Saturday, June 23, 2012 - 10:00am
Where: Location: Newport Avenue (4800 – 5000 blocks), San Diego, CA 92107
Free admission
Click here for a map of the location!