3rd Annual Oyster Fest Brings Brews, Bands & Seafood
Oysters may be the main theme of this finger-lickin fest but don't forget the brews and beats that will rock the party all afternoon when the 3rd Annual OysterFest returns Saturday, June 16th.
Hosted by Pacific Beach Shore Club, 91X FM and Pacific Beach Fish Shop, head to San Diego's Embarcadero Marina Park North for a fine summer day of superb gourmet oyster tasting and samplings from San Diego's favored restaurants.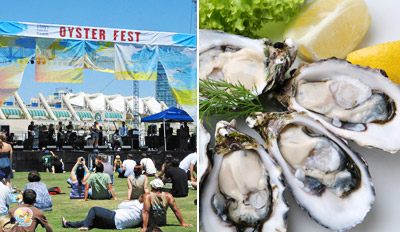 Set to a killer lineup of local bands, don't be fooled -- for music junkies it's the live performances that will steal the scene. Groove through the afternoon with Iration, Vokab Kompany, The Silent Comedy, Little Hurricane and Splitfinger, and jam to DJ sets from Mikey Beats, Mike Czech, Beatnick and Demon.
In between music mingle with celebrity chefs, watch live cooking demons, educate up on oyster farming in California at the Oyster Expo, or join a team and feel the heat with a "Shuck and Suck" competition.
All those options got you thirsty? No worries, libations aplenty to be savored! 16 craft beers will be on tap from vendors from local breweries like Coronado Brewing Company, Green Flash and Ballast Point, as well as a wide range of other beverages including wines, cocktails, whiskey and nonalcoholic beverages.
This year's fest is proud to donate a portion of the day's proceeds to The Leukemia & Lymphoma Society's Team In Training (TNT) and to Veteran's Research Corporation.
Lineup: 3rd Annual Diego OysterFest
6:00 p.m. – Iration (irationmusic.com)
4:30 p.m. - Vokab Kompany (vokabkompany.com)
2:45 p.m. - The Silent Comedy (thesilentcomedy.com)
1:15 p.m. - Little Hurricane (littlehurricanemusic.com)
12:15 p.m. -Splitfinger (myspace.com/splitfinger)
Plus DJ appearances by Mikey Beats, Mike Czech, Beatnik and Demon.
Tickets:
General admission tickets include entry and entertainment for just $25 in advance. Or, snag a limited VIP pass for access to a private picnic area, prime view of the stage and exclusive cocktails, beer, oysters and a food buffet served between 1-4pm.
Details:
21+
Saturday, June 16, 2012
Embarcadero Marina Park North
849 West Harbor Drive
(by Seaport Village)
Open at 11:00 a.m.
Live music from Noon– 7:30 p.m.
oysterfestsd.com
Facebook: http://www.facebook.com/SDOysterfest
Twitter: http://www.twitter.com/SDOysterFest